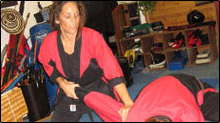 BECOME AN INSTRUCTOR
In One of The Most Effective Blade & Stick Fighting Systems in the World.
I promised my late teacher GGM Gilbert Tenio that I would not let his DeCuerdas art die. And I WON'T. I am looking for 7 dedicated instructors to carry on this art. I already have five (had six one died) and 2 are getting close. Will YOU BE ONE?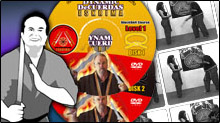 Dynamic Eskrima

ONLINE

Course
Study Level by Level or ALL at Once. I have to tell you that you will have to train hard to get your Black Belt with us – but when you do you will be skilled and confident with knives and sticks which is much more important than rank, isn't it? And who wants a fake Black Belt certificate anyway? What good will a piece of paper do you if you don't have the skill to back it up?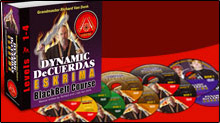 Dynamic Eskrima

BINDER

Course
You get ALL the multi-year training in a cool Binder which includes:
– TEN DVDs – 1 hour each – strategic sequenced learning
– DeCuerdas BlackBelt 450 page
picture instruction training manual.
– Embroidered uniform patch
– Bushindo Student Testing Registration