BECOMING AN INSTRUCTOR
IN DeCUERDAS ESKRIMA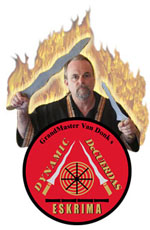 We are looking for 7 dedicated students to teach and perhaps pass on this art to. Grandmaster Richard Van Donk promised his teacher that he would not let his Filipino art die. As silly as it may seem, the true Filipino arts are actually rarer in the Philippines than they are in the United States. They mostly have been phased out by Judo, Tae Kwon do and Karate except for a few clubs.
We are now being asked by high level people to come to the Philippines and teach what we know. The late Grandmaster Gilbert Tenio taught parts of his system to the public but like many masters kept his deeper, more effective teachings mostly to himself. The more dedicated the student, the deeper the teachings will be released to them. It is a great and truly exciting and effective system.
The following people are Officially Certified in Dynamic DeCuerdas Eskrima by Grandmaster Richard Van Donk.
If they are not on this list then they are not official. If you read this and you think there is an error then please contact us. If you haven't already started training, get started now and work your way to the top. You may be that one student the art is looking for.
RED-GOLD Belt
with Gold tassels

Richard Van Donk - GrandMaster
Guro 1984 / Professorship about 1991
RED Belt
with Gold tassels

Linda Van Donk - Professor (Retired)
Master Professor

Roman Marquez (3-24-15) - Professor
BLACK and RED BELT
w/Stripe

Advanced Guro
(Instructor)

Michael Aalto Guro (3-24-15)

Ron Elges Guro (3-17)

 

Ken Balanon Guro (9-29-2001)

Becky Norton Guro (10-19-08)

KIT KUITTINEN 2-16-04 (DECEASED)
WES SHREVE (1-10-08)
JAMIE DAIKEN (10-19-08)
MAC FINNEY (10-19-08)
BRENT PATTERSON (10-19-08)
MIKE PIAZZA (10-19-08)
LIISA AALTO (11-27-11)
JANINE QUELLER (10-6-12)
TIMOTHY DAILEY (10-6-12)
NATE ALMEDIA (11-6-13)
MIKE GOLDWATER (11-6-13)
CHARLES BERTRAND (11-6-13)
JARED MIKLICH (11-6-13)
JUSTIN WILLIAMS (12-1-15)
JEFFREY JOHNSEN (12-1-15)
RYAN YOUNG (12-1-15)
MATTHEW SCHOBER (6-02-16)
HANNES HARKONEN (12-19-16)
MICHAEL SHELDREW (3-28-17)
TYLER JONES (8-17-17)
SCOTT ALLEN (4-7-18)
ANDY RASOR (4-8-19) 
JAN MARTENSEN (9-21-19)
EPHRIAM CHEEVER (10-25-20)
QUENTIN DUNFORD (06-12-21)
In the art of TENIO DeCuerdas Eskrima we recognize and support the following Master Level students of the late great
GrandMaster Gilbert Tenio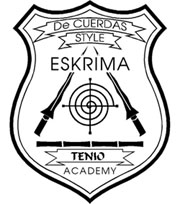 A great Master Eskrimador that passed away while teaching Eskrima at a Hawaii Seminar. He was originally chosen to be the inheritor of the Tenio DeCuerdas system.
GrandMaster Tenios son and also an inheriting Grandmaster. Retired from teaching.
Master (GrandMaster of his own combination system LSD Eskrima which stands for Largo Mono, Serrada and DeCuerdas).
Master at many arts including certification from Grandmaster Tenio from his early days of training with GM Tenio. But did not train with Teno after I started in 1981.